Via een Twitterbericht werd mijn aandacht gevestigd op een programmeerspel, gemaakt door Juf Marjan.
Nadat ik vorige week eerst nog wat vragen had gesteld ben ik aan het printen, kopiëren en lamineren gegaan. Dat laatste is niet noodzakelijk, maar als je het vaker wil gebruiken is dat wel handig. Ik heb de kaartjes in een plastic doosje gedaan, een stoffen zakje zou ook handig zijn, dan hoeven de kaartjes niet steeds worden omgedraaid en het is makkelijk om even te schudden voor de volgende ronde kaartjes pakken.
Op de site van Juf Marjan vind je alle benodigdheden en de uitleg van het spel. Ik heb er nog een LessonUp bij gemaakt om de uitleg op het bord te kunnen geven.
De kinderen vonden het een leuk spel, wel zit er een vrij groot aandeel toeval in. De snelheid van bewegen van de robots is erg afhankelijk van de kaartjes die je trekt. En daar kan je pech of geluk bij hebben.
Maar niet alleen geluk speelt een rol, ook logisch denken, weten wat er gebeurt als je een linksom kaartje gebruikt, en wanneer een vooruit of achteruit kaartje handig is. Er waren kinderen die he heel slim speelden, maar ook kinderen die steeds weer de fout in gingen en verkeerde keuzes maakten.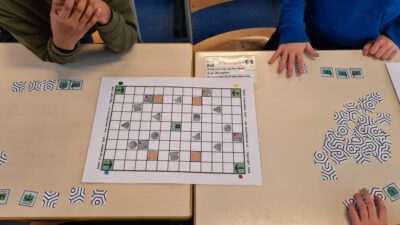 Al met al een leuk spel om te gebruiken bij de leerlijn computational thinking. Een mooie manier om kennis te maken met programmeren zonder dat je daarvoor devices nodig hebt. Unplugged dus! De spelduur: in een uur heb je de uitleg gedaan en de meeste groepjes konden het spel 2x spelen. Dus ook geschikt als je maar weinig tijd in je programma hebt.
Juf Marjan, bedankt voor het delen!