Ik heb een tool gevonden die ik graag met jullie wil delen: Natuaral Readers
Het is een online tool waarmee word- en pdf-bestanden online kunnen worden voorgelezen. Voorheen kon dat bij ons op school alleen via Kurzweil. Dat is duur en moet per leerling aangeschaft worden. Voor elke leerling is er een aparte stick en laptop nodig. Voor kinderen die geen Kurzweil hebben maar wel baat hebben bij het voorlezen van grotere stukken tekst hadden we niks.
Hoe werkt het?
Als je naar de link gaat dan klik je op de knop: Go to online reader.
Het volgende scherm komt dan in beeld.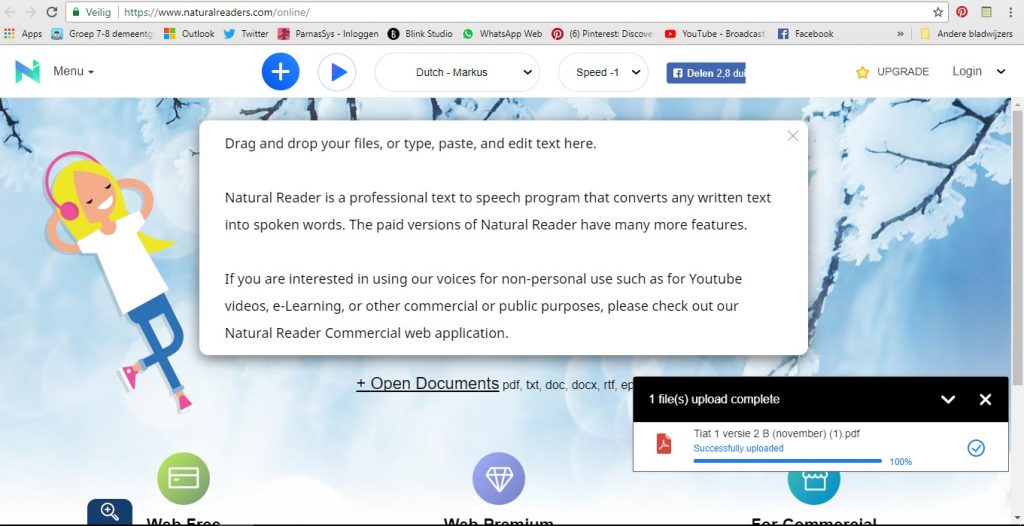 Nu kan je eenvoudig een pdf- of wordbestand in het scherm slepen (of je klikt op Open Documents om het bestand op te zoeken in je bestanden). De pagina wordt dan geladen en als je op het vinkje rechtsonder klikt dan opent de pagina in het scherm.
Dan kan je de taal en stem aanpassen (midden boven) en de snelheid (speed). Als je op de blauwe pijl klikt begint de stem met voorlezen. Je kan zelf aangeven waar de stem moet beginnen met voorlezen, navigeren gaat eenvoudig met de muis.
De stem is misschien niet optimaal, en ook heeft Kurzweil veel meer mogelijkheden, maar dit lijkt me een zeer bruikbare gratis variant die op zowel een vaste computer als op een chromebook te gebruiken is.
Via Twitter kreeg ik nog de tip om bij Chrome-extensions te kijken, maar die kreeg ik op mijn chromebook niet aan de praat. De reviews van een van de bekendere (Select and Speak) waren ook niet erg lovend (werkt niet, wordt meteen doorgestuurd naar betaalde variant, enz.).
Ik ga het de komende tijd eens uitproberen. Ik ben benieuwd naar jullie ervaringen en eventuele alternatieven.